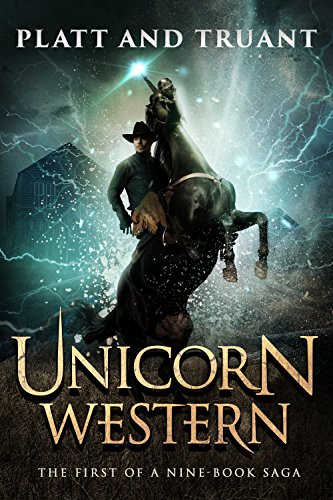 Free $0.99
Unicorn Western
by Sean Platt & Johnny B. Truant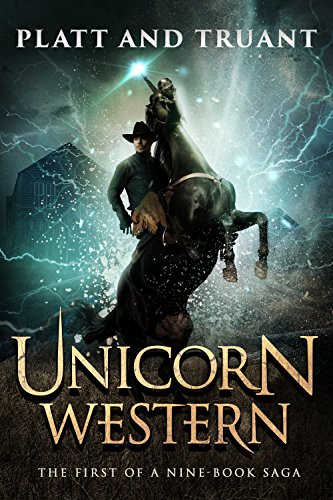 From the bestselling authors of Yesterday's Gone, The Inevitable, Invasion, and Fat Vampire comes Unicorn Western, a reinvention of both the western genre and unicorn lore.
Cast out from the magical kingdom of The Realm and into the dying desert of the Sands beyond, Marshal Clint Gulliver and his unicorn Edward have finally found peace in the small and dusty town of Solace.
For the first time since leaving The Realm, Clint has dared to be happy, getting hitched to his bride-to-be, Mai. But when the town faces a deadly approaching enemy, the gunslinger feels compelled to unholster his seven-shooters to face it… and the dark magic it brings with it.
★★★★★ "If Stephen King dropped acid and some E when he was writing the Dark Tower series it might have been Unicorn Western." — Tots4Masses
★★★★★ "Totally insane story, but oddly makes sense. You'll fall in love with Edward, identify with Clint and wonder about Mai. Magic galore. Breezed right through this book and can't wait for the next one! More, more, more pleasem and thankoo!" — Jkaustin02
★★★★★ "Oh my goodness!!! I never would have thought a western about a unicorn riding cowboy would work but it does! This is a fun and addictive story. I can't wait to buy the whole series now. I highly recommend this book." — Jakki Hatchett
★★★★★ "This was great. Really reminiscent of old westerns, but with unicorns and magic. I loved it, especially when Clint is trying to round up a posse." — C. Lightberry
★★★★★ "UNICORN WESTERN is a delightful treat for readers, no matter their preferred genre" — Trula
Unicorn Western is book one in the 9-book Unicorn Western Series. It's like Stephen King's The Dark Tower, but with more magic, more fun, and more turkey pie. Read the entire completed series today!
Deal End Date: 2023-03-28