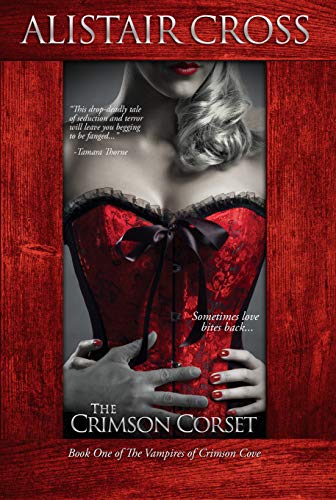 Free $2.99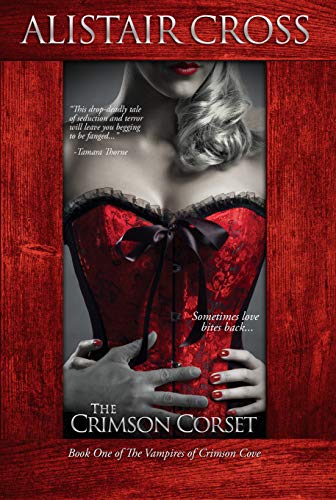 Welcome to Crimson Cove
Sheltered by ancient redwoods overlooking the California coast, the cozy village of Crimson Cove has it all: sophisticated retreats, fine dining, and a notorious nightclub, The Crimson Corset. It seems like a perfect place to relax and get close to nature. But not everything in Crimson Cove is natural. When Cade Colter moves to town, he expects it to be peaceful to the point of boredom. But he quickly learns that after the sun sets and the fog rolls in, the little tourist town takes on a whole new kind of life – and death.
Darkness at the Edge of Town
Renowned for its wild parties and history of debauchery, The Crimson Corset looms on the edge of town, inviting patrons to sate their most depraved desires and slake their darkest thirsts. Proprietor Gretchen VanTreese has waited centuries to annihilate the Old World vampires on the other side of town and create a new race – a race that she alone will rule. When she realizes Cade Colter has the key that will unlock her plan, she begins laying an elaborate trap that will put everyone around him in mortal danger.
Blood Wars
The streets are running red with blood, and as violence and murder ravage the night, Cade must face the darkest forces inside himself, and perhaps even abandon his own humanity, in order to protect what he loves.
"Put Bram Stoker in a giant cocktail shaker, add a pinch of Laurell K. Hamilton, a shot of John Carpenter, and a healthy jigger of absinthe, and you'll end up with Alistair Cross's modern Gothic chiller, "The Crimson Corset" – a deliciously terrifying tale that will sink its teeth into you from page one." – Jay Bonansinga, New York Times Bestselling author of THE WALKING DEAD: INVASION and LUCID
"This drop-deadly tale of seduction and terror will leave you begging to be fanged … " – Tamara Thorne, international bestselling author of HAUNTED and MOONFALL
"I couldn't put this book down. It's got more hooks than a day boat out of San Pedro Harbor!" – QL Pearce, bestselling author of SCARY STORIES FOR SLEEP-OVERS
Deal End Date: 2023-10-19