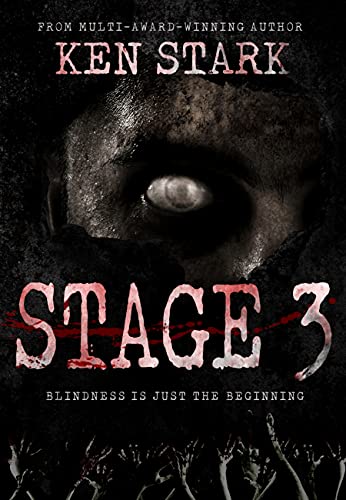 Free $0.99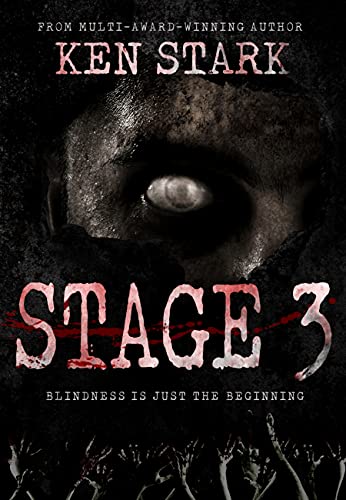 Blindness is just the beginning.
Once the virus strips away everything remotely human, all that's left is a mindless, savage predator.
Finalist, Fiction Horror – 2018 International Book Awards
Bronze Medal, Fiction Horror – 2017 Readers' Favorite Book Awards
Official Selection: Horror – 2018 New Apple Summer E-Book Awards
From multi-award-winning, horror writer, Ken Stark, comes a pulse-pounding, post-apocalyptic zombie novel that will keep you pumped up until the very last page. For fans of World War Z, The Last of Us, and The Walking Dead.
"The suspense here is devastatingly effective and only scratches the surface of the blood-soaked brutality that plays out in the chaos of this world."
MASON NEVER CARED MUCH FOR HIS FELLOW MAN.
But now, he is all that stands between a blind little girl and a world gone mad.
Even as they fight their way from one horror to the next, through streets running red with blood, they both know that time is running out.
Stage 3 IS COMING… and things are about to get a whole lot worse.
Critics have called STAGE 3 "a thrilling ride through a nightmare landscape," "a gripping page-turner from beginning to end," and "a roller coaster of unstoppable horror."
Follow the journey of a group of survivors as they struggle to stay alive in a world overrun by the undead and infected.
Are you ready for the end of the world?
Start the series for free today!
With fast-paced action, intense suspense, and a cast of unforgettable characters, STAGE 3 is a must-read for fans of horror, Z-POC fiction, and post-apocalyptic thrillers.
OTHER BOOKS by KEN STARK:
THE STAGE 3 SERIES
Stage 3: ALPHA
Stage 3: BRAVO
Stage 3: CHARLIE
Stage 3: DELTA
Billy the Kid (A Stage 3 Short Story)
HORROR NOVELS
Miracle Man: The Rise of an Anti-Christ
Gaia's Game
Arcadia Falls
SHORT STORIES
Born of the Dark
Dead Weight
Horrible Little Nasties
Who's Going to Feed Johnny?
Jitters
Killing Joe Prince
Deal End Date: 2023-08-30