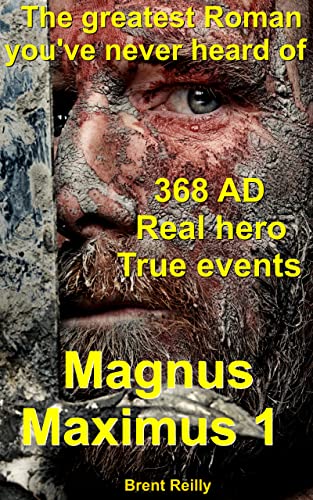 Free $4.99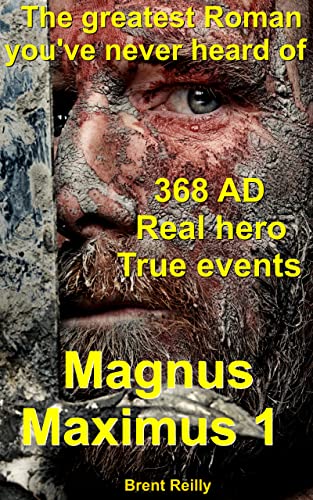 Get all 30 historical thrillers FREE! 100,000+ Magnus books sold! #1 in Historical Thrillers, #1 in Military Thrillers, #1 in War Fiction, #1 in Military Science Fiction, #1 in Historical Fantasy, & #1 in Alternative History on Amazon. The true story of an actual evil genius who gets 5 foreign armies to invade Britain in 367 AD, killing 100,00 Britons in what historians call The Great Conspiracy. Meet the real-life man sent to stop them. Magnus Maximus means Maximum Great – that's his name and he'll become Roman emperor in 383. But this long-suffering orphan has demons from his past that darken his future. His cousins ruin Rome, destroy Western civilization, and trigger the Dark Ages. See Rome fall, meet the greatest Roman you've never heard of, enjoy the 4th century now, and take a tour of antiquity today.
PRAISE FROM AMAZON VERIFIED REVIEWS: "Best historical novel I've read." "4th century historical fiction at its finest." "You can feel the fire as the Roman Empire explodes. Great series!" "Learn why Rome fell. Magnus puts it all in historical context. Great historical fiction." "Ambitious, outrageous, and audacious in scale, depth, and detail. Brilliantly told… I could feel the fire as Londinium burned. A remarkable read that kept me glued to my screen." "I couldn't stop reading. Magnus flew off the page… The giant blue Pict was sensational." "How military fiction should be written. It's fast, fun, and full of fighting…A tight tale that never bogs down." "Highly addictive. Great book. The pace was fast and the fighting furious. Magnus shines." "Magnus is dark, daring, and dangerous." "Shines a bright light on a dark time. Book 1 starts good, then the saga soars!" "Magnus Maximus is Julius Caesar with an attitude. I loved this book." "A stunning depiction of the fall of Rome. This saga is great. Highly recommended." "Great military history…Great portrayal of historical characters." "Nice battle scenes and excellent suspense." "An action packed historical adventure." "A pleasure to read. Fast and fun. I'll be getting the next one." "Great portrait of the withdrawal of Rome." "Fantastic story. Great action." "A blast! Sheer entertainment. Now I want the next one." "Great history… Amazing real men… Magnus stands up and stands out."
30 BOOKS IN THE MAGNUS MAXIMUS SAGA
MEET THE GREATEST ROMAN YOU'VE NEVER HEARD OF AND
ENJOY THE 4TH CENTURY, TODAY!
The Screenplay is a prequel.
1) First King of Britain
2) Barbarian Invasions
3) Empires At War
4) The Hun Horde
5) The First Americans
6) The Terror of Totonaca
7) Battles in the Basin
8) The Conquest of Zacatecas
9) Berbers and Bedouins
10) The Mayan Menace
11) Revenge of the Zapotecas
12) Massacre on the Mississippi
13) Alaric the Goth
14) The Forbidden City
15) The Great Wall
16) Japan's Ancient Empire
17) The First Korean War
18) Gwan the Great
19) Rise of the Aztecs
20) League of Emperors
21) Prince of Persia
22) Gupta India
23) The Conquerors
24) Birth of a Behemoth
25) The Doom
26) Peru's City of Gold
27) El Dorado
28) The Invasions of Italy
29) The Last Romans
30) Raid on the Thames
COMING SOON: The Fall of Rome
Deal End Date: 2023-03-07