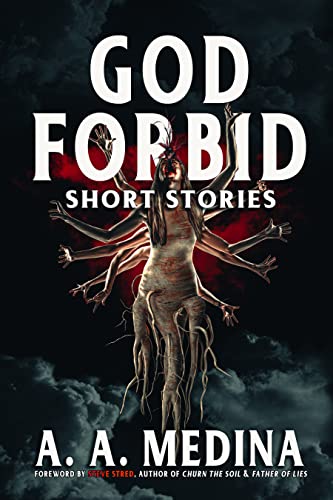 Free $0.99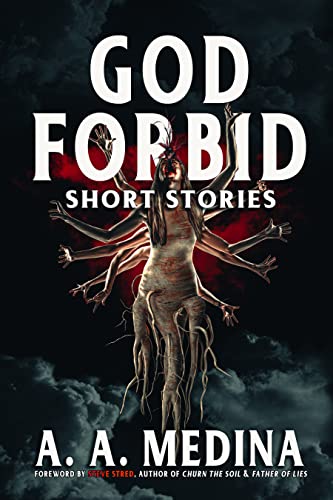 "Each story here is a winner, many having all the potential to expand to their own book. But collected? You got a perfect assortment of tales that encapsulates the brand that is A.A. Medina. Medina's stories give dread out like candy, and GOD FORBID is his Halloween night." ~Bo Chappell, Author of Year 47 and Our Biggest Fears
"With a poetry to the language and a satisfying twist to every tale, Medina's latest is a must-have for fans of short horror fiction!"
Leo X. Robertson, author of Bonespin Slipspace and The Grimhaven Disaster
Following the Foreword by two-time Spatterpunk-Nominated Author, Steve Stred, this collection of eleven short stories will cast you into multiple worlds of horror, mystery, intrigue, and dread. Visit dystopian futures and get a glimpse at the dark underbelly of the human condition. Tales of life, death, and rebirth.
I'M SORRY FOR YOUR LOSS
Desperate and hopeless, a man strikes a deal with a hellish creature.
A NIGHT IN BLACK CANYON
A father and daughter believe they've found sanctuary in a post-apocalyptic Arizona.
THE CUPBEARERS
The flora on an alien planet isn't quite what it seems…
SALVAGE
A blacksmith scouring the war-torn Italian Hinterlands for scrap makes a heart-breaking discovery.
TRADITIONS
A neglectful husband falls victim to his wife's holiday cheer.
AN OPEN CASKET ADRIFT
What should have been a daytrip turns a into a dreadful vacation.
EVERY NIGHT
A lonely man is visited by a mysterious being every night.
THE PIONEER PROJECT
A science vessel orbiting Saturn's moon, Enceladus is hijacked.
THE TOPHETH PEDIGREE
A pregnant woman reluctantly meets her partner's rich, secretive family.
FROM RIPPLES TO WAVES
A man obsessed preys on the neighborhood children.
8-BIT REBELLION
Colors are controlled by corporations. An ode to Lois Lowry and Philip K. Dick.
"There were many evils on this earth before the demons crawled up from hell."
Deal End Date: 2023-09-08